Catherine Gardiner's Official Website
Welcome to the Official Website of Catherine Gardiner, author of the new young adult paranormal novel Forgotten (In The Shadows, Book One).
The ebook is available to buy exclusively on the Kindle Store at Amazon UK for £0.85, Amazon for $1.09 (up to $3.09 in certain countries outside of the US), Amazon Germany for 0,99 €, Amazon France for 0,99 €, Amazon Spain for 1,89 €, Amazon Italy for 1,89 €, Amazon Japan for ¥ 102, Amazon Brazil for R$ 2,15 and Amazon Canada for C$0.99. At each link you can also look at the free sample, and Prime Members can borrow it for 30 days for free! Prime is now available at Amazon US, UK, Germany, and France. All prices are correct at the time they were added to this website but may alter due to exchange rates.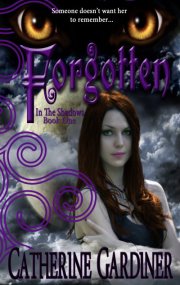 Don't have a Kindle device? Kindle ebooks can also be viewed for free on Windows PC, Mac, iPhone, iPad, BlackBerry, Android and Windows Phone 7. Click here for more information about these free apps.
Check back at this website for news about paperback editions of Catherine Gardiner's novel and subsequent novels, plus where you can purchase them from, in the future.
Forgotten (In The Shadows, Book One)
On the 25th July and the 29th October, Forgotten was featured on Freebooksy! A big thank you to them and to all the websites that featured Catherine Gardiner's debut novel!